·
Suckin' Gas & Haulin' Ass
Ok ladies and gentlemen,

My annual scenic road trip has arrived.

I am driving from VB to The Tail of the Dragon.

If you would like to join me in this adventure, please feel free. I will be there on November 20th and 21st. I might try to get there the night of the 19th but money is tight and so is my vacation.


OK, just a brief explanation of the Tail of the Dragon.


To those coming from the North Carolina side, the Dragon begins at Fugitive Bridge with a view of the Cheoah Dam where Harrison Ford jumped in the movie
The Fugitive. It ends 14 miles across the mountain at the Tabcat Creek Bridge in Tennessee. From Fugitive Dam US129 climbs through The Slide, a steep series of "S" curves where one would not want to meet one of the tractor-trailers that comes this way at times. The road then levels and straightens until a series of curves approaching the Crossroads of Time, one of the main hangouts for visitors. Next comes Deals Gap and the Tennessee State Line. For the next eleven miles most people just remember curve after curve after curve and surviving the run of their lives.

A few members have been here and it's pretty amazing to hear their stories and of course to see pictures. I plan on driving this as much as possible while I am there.


I am taking the following route so if anyone wants to meet up with me, let me know and we can arrange it!


This will also allow me to add another state (TN) to the list of states I have been able to drive my SS.
:biggrin2: It's about a 9 hour drive from VB to the Tail.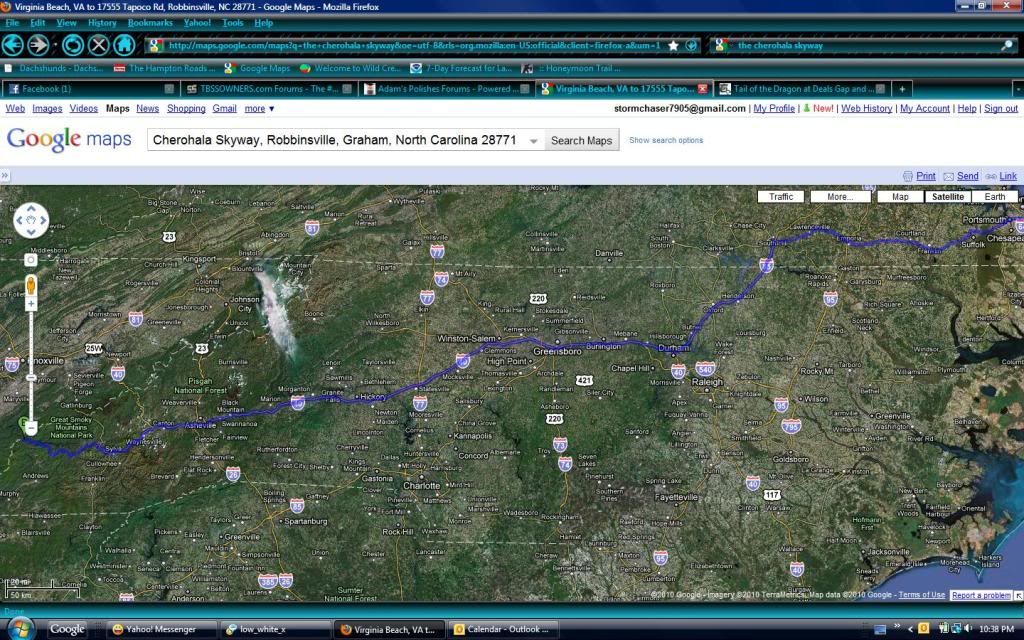 I have the event on my Facebook calendar as well so I can keep a better track of the event. Look forward to having a good time!
Also if anyone has 2-way radio's bring them. I might end up buying a set as well. This way we can communicate in the event no cell reception. The FRS/GMRS kind is what appears to be best.
List of people attending:

Brandi (StormChaser7905)
William (WilliamJrdn
Jennifer (

JRDNGRLSS

) Josh (Razz2o4)
Seville (Sassy-SS)
Michael (Edub)
Tony M. (scjzman)
Mrs. D. (scjzman's wife)
Greg (TTOF)

Maybe's:
Joe - SmokinJoe
Patrick
Randy
Clayton

Not attending:
Sean
Keith V
Mike P