Discussion Starter
·
#1
·
We got the Famoso dragstrip this fall so we can have another private track day just like we had before. So yes people WE WILL be having a Famoso track day this year!!! So spread the word.
heres the flyer for:
SLUG DAY!!!!
October 29th 2011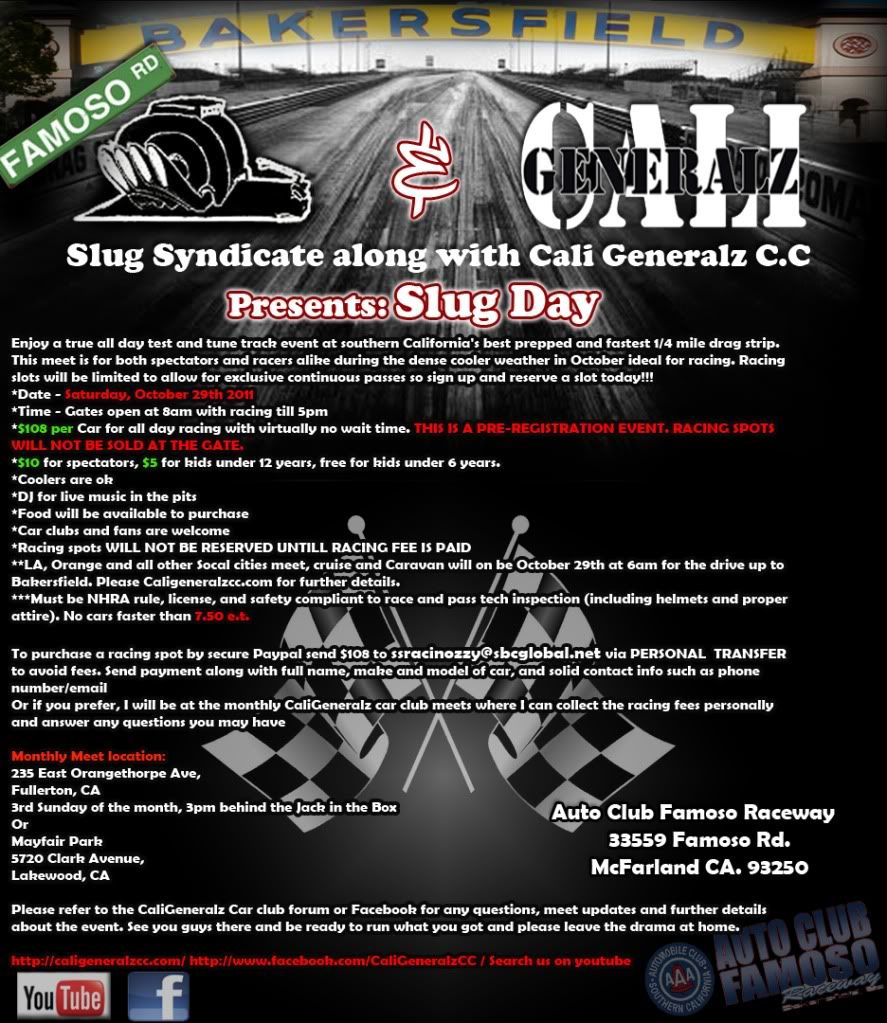 Saturday October 29th 2011
from 8am-5pm
$108 to race all day and I truly mean all day.
$10 for Spectators
DJ in the pits
BBQ
Alcohol (for non-drivers)
Racing spots WILL NOT be reserved until fee is paid.
Refer to the flyer for more info.
I will be accepting Race fees either through Paypal or if you wish, in person at the CaliGeneralz monthly meet. Contact name Ozzy blue GTO
send fees along with full name, make and model of vehicle and solid contact information like phone number and/or email address.
Paypal ID is
[email protected]
MAKE SURE fee is sent via PERSONAL TRANSFER to avoid additional fees
I will be updating this thread as other details arise. Sponsors and Shops feel free to PM for sponsorship details for raffle.
feel free to post up or PM any questions regarding this event.
Spots will be limited so reserve your spot now!!!
More info and links
http://caligeneralzcc.com/forum/showthread.php?p=19737#post19737
http://www.facebook.com/event.php?eid=187468434653419
Also posted on... dont be leave out on this event
Cali Generalz
ls1gtoforums
ls1tech
svtperformance
turboforums
syclone/typhoon forums
Facebook
ETC ETC