Hey guys, just figured i'd check in, I picked up my 2006 Trailblazer SS yesterday afternoon from a dealership in Nicholasville, KY.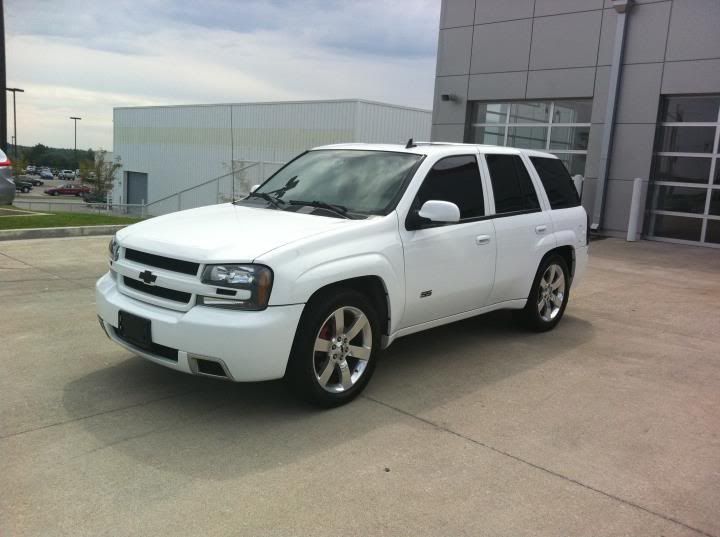 I traded in my 2009 Cobalt SS Turbo on it, I really hated to see the car go, I bought it with 3 miles on it and drove it till it had 53369 on the clock! The car had an extensive mod list and was definitely a great car to drive!
I hated seing it go, but I love my new SS, and it'll be alot better in the WV winters haha
It's the SS3 edition, with heated seats, leather interior, Nav, DVD, and all that stuff. Definitely alot more comfy they the crowded cobalt LOL, not as much plastic either
I do have a few questions if you guys would be so kind to help me out!
With the navigation do you have to have the map CD in the whole time to use it? or is there a way to save the map CD to the system? I used it on the way home, but I had to keep the map CD in the whole time.
I'm new to this thing, so what are some good power adders to start off with? Intake, exhaust,tune?
This one I may sound a little dumb for haha, but when the cruise is activated, the light that pops up for me is an orange one and the picture is a slippery road car, with a wrench on the left side? Not a green circle deal like usual. Is that correct? I haven't had time to look at the book, but I was just checking.
Anyway, my main purpose for this switch was to have something to haul my bike with to the track next season, I'm tired of having to rent a pickup just to go! I have a 2006 Triumph Daytona 675 as well, street/track.
Pic for people interested:
Thanks for reading guys, and sorry if I sound to dumb, I actually know my way around a car pretty well usually haha