Here is some info for everyone about the lights I have been working on.
Website--
www.jaylind.com/hlmod01.html
The cost of this MOD is currently $50.00 USD ** 01JULY07 this goes up to $75 **
for this price you get:
Open the headlights up.
The inner bezel painted to match your ride (unless otherwise requested)
The side amber markers can be replaced with clear or tinted darker(see pics)
The lights then get sealed back up. tested for leaks. If no leaks I send them
back out to the owner.
The process takes 2-3 days after I get them.
Shipping costs vary depending on who you use and method shipped. My zip
code is 80017 (Aurora, Colorado). The lights are right around 17lbs for the set.
I accept Money orders or Paypal (If using paypal add 4% to total for fees)
At this time I do have 1 set of loaners that I am using so folks don't have downtime on their DD. I am working on getting a second set depending on demand. I don't charge for you to borrow them but you do have to pay for the additional shipping charges.
Here are a few pictures there are more on the website
Before Pictures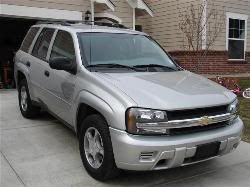 After Pictures