Discussion Starter
·
#1
·
We have been doing these for a long time, and thought we would give the LS2's a try, despite them being alot more difficult to tear down and assemble compared to an LS1/3/7,etc.
These units are 100% torn down to the bare casting. This allows us to port the entire unit, unlike others that remove the blade and port around the shaft. We remove all the large restrictions both from in front of AND behind the blade. We also remove the front half of the throttle shaft to further improve airflow through the throttle body. The port work and blade are both polished to a mirror shine. Lastly, we powder coat the throttle body in our usual show quality finish prior to complete re-assembly.
Our throttle bodies are truly the complete package. We are going to do a dyno test soon with my TBSS. We have seen gains of 10-15 RWHP on the Corvette LS2, LS3 and LS7 vehicles, so we expect to do well with the LS2 truck as well.
We have two ready to go right now on a special introductory price of
$160 plus shipping.
One is chrome powder and the other is gloss black.
Core charge of $65 is 100% refunded as soon as we recieve your stock core back from you.
Paypal and credit card both accepted.
Pictures:
COMPARED TO STOCK: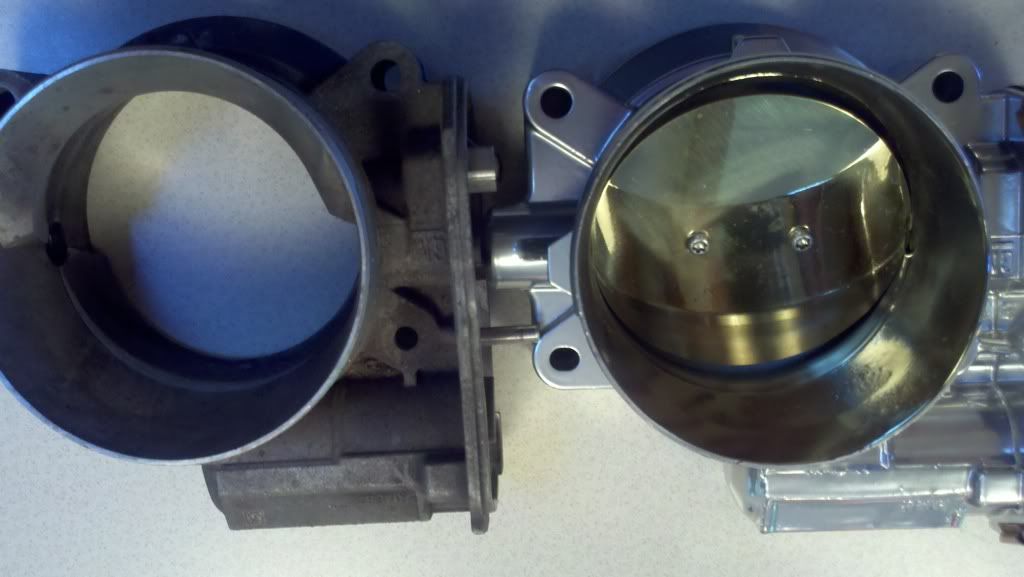 More pics...